Interested in our services or want to ask something? Contact us!

In 2012 our clients have been covered on popular Russian technology websites: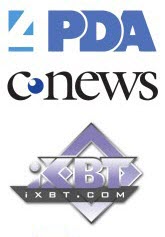 ...and many others.
Read the application promotion case studies in our blog.
You are here: Home / Services
Mobile Application Marketing in Russia
Do you want to run a mobile application marketing campaign in Russia? You came to the right place. We can help you create customer interest around your product and increase its downloads by doing a concentrated promotion on popular technology websites, review sites and blogs in Russia.
Select the service of interest:
Cost: $150 - 500 USD (depends on your project)


Russian Application Translation
To run a marketing campaign in Russia, you need to localize your application for the local market. We can help you to translate the application interface and messages, its description and keywords, as well as any other marketing or technical document to support your release in Russia.
Select the service of interest:
Rate: $0,015 USD per 1 character