Interested in our services or want to ask something? Contact us!
You are here: Home / Company
About IvanPR.com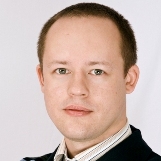 IvanPR.com simplifies and accelerates translation and marketing for mobile application developers reaching the Russian market. Using its own native Russian translators, the company quickly translates mobile applications, advertisements and websites from English to Russian, and then arranges for application reviews on the most popular technology websites and blogs in Russia. The company was founded in 2008 by Roman Korolenko, a Ph.D. in English Philology, who has been working as a Russian translator and PR specialist for software development companies since 2004.

Partnership
IvanPR.com is a of Avangate B.V. Under the partnership, we provide Russian translation and press-release support to Avangate and its clients.

Avangate provides electronic software distribution and reseller management solutions, assisting software companies worldwide in successfully selling their products online and at the same time efficiently managing a distribution network. Tailored for software sales, the company's offer includes a full-featured secure eCommerce platform, results-driven web marketing services, an affiliate network and the ARMS reseller management system. Avangate's expertise in the software business can help vendors increase their visibility on the Internet, maximize access to additional selling channels and generate software sales online and offline. More information: