Hello! While you were on summer vacations, we prepared to launch a new service – Marketing iPhone and Android Applications in Russia. To promote mobile apps, we send press-releases to computer portals, magazines and pitch bloggers to review your application. We can promote your app in Russia and USA, Canada, UK, Australia, New Zealand. The desire to participate in the era of "gold rush" at the Apple Store and Android Market has been bugging me for a year, but I decided to promote two-three apps to launch the service with real examples of promotion, not to be unfounded.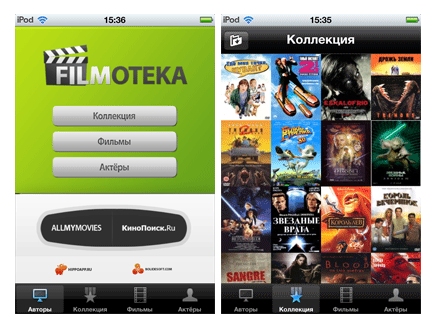 So, here's the story of my experience promoting the first mobile app in Russia. The application is called Filmoteka and designed for iPhone and Android smart phones. Created by Bolide Software, Filmoteka is targeted only at the Russian-speaking users and distributed as a freeware mobile client of All My Movies, a popular movie organizer for Windows OS. The mobile app synchronizes with the desktop movie management software, allowing movie collectors to have a catalog of films always at hand on the home computer and iPhone or Android smart phone.
Filmoteka looks up information about a movie in the largest Russian online database of movies called that allows people to find information almost about any movie or actor. The user can read a movie summary and download it to the movie manager on a mobile device. Then, you can review movies offline which is especially useful when, for example, you are in a shop and do not want to buy one and the same DVD twice.
So, here's how I promoted Filmoteka in Russian media.
Last fall I was approached by a developer with a question if I could promote a mobile application for iPhone and Android in Russia. I said: "Why not?" By that time I had already collected the editorial contacts of portals and blogs about mobile phones and applications. Also, I was going to send the press-release to the editors of computer magazines and news portals who I had working relationships with as I had been promoting press-releases about shareware applications for Windows for the last two years.
Over night I prepared the press-release about Filmoteka using the description of the application on the website and a video tutorial on YouTube. On Sunday, the developer said the App Store approved the application and next day (November 8, 2010) I delivered the news to the computer media. The first publications of the news began to appear on web portals within the next two-three days after the release.
* Press-release announcing Filmoteka for iPhone is available here (Adobe PDF, 360 KB)
* Report about press-release publications can be downloaded here (Adobe PDF, 2,21 MB)
According to the developer, press-release promotion generated about 11,000 installations per day (1900 installations was the peak), then the application held 9-10 place in Top Free of Russian AppStore ()
A month later came Filmoteka for Android that we also promoted with a press-release.
* Press-release announcing Filmoteka for Android can be downloaded here (360 KB)
* Report about press-release publications can be downloaded here (2.11 MB)
Media coverage showed that editors of news portals are interested in the news about mobile applications, especially freeware software for home users. In addition to portals, many Apple and Android blogs also responded to the release with reviews. But whether it's a result of my promotion or not is still a mystery to me. Though I also delivered the press-releases to these blogs, reviews appeared three months later.
That's the story. Got questions? Contact me about promoting iPhone and Android apps in Russia. You can reach me through the contact form.
Author: Roman Korolenko