Are you curious what others are doing to achieve success with marketing applications in Russia? Here's a story about a mobile startup called Sibity that marketed their with our help and achieved outstanding results. You're guaranteed to find inspiration for your efforts in marketing your application for Windows Phone in Russia here and learn about the tactics that can work for your mobile application too.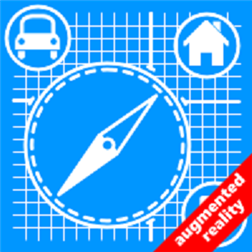 Sibity (a mobile startup which was founded in Novosibirsk, Russia) developed a GPS application called Radar. The application allows users to find the way back exactly to the point where they came from. For example, it can help to find the way back to the parking lot, the hotel and even come back to civilization if the user is lost in the woods.
Here's how it works: you mark the current position using the phone's GPS. Once the place is marked, you can confidently go about your business, knowing that the starting point is saved. When it is time to go back, the application shows a compass screen with the current position of the user and direction back to the starting point.
After launching the product, Sibity chose our company to market the Radar application in Russia – prepare and send a press release to the media outlets and approach bloggers. And we did our best. We arranged for the publication of the news and reviews on the most popular Russian tech websites and blogs, creating much buzz around the product.
Reviews of Radar app on Russian tech websites and blogs
4PDA is a popular portal about gadgets and apps for iOS, Android and Windows Phone. The average daily audience is approximately 450,000 visitors.
iXBT is a popular tech website about gadgets and applications for Windows, Windows Phone, iOS and Android. The average daily audience is 200,000 visitors.
Nomobile is a blog about mobile gadgets. The average audience is 14,000 visitors a day.
Soft.Mail.Ru is a technology website with an average audience of 200,000 visitors a day.
Results of Radar marketing in Windows Phone Store
The reviews created interest around the app and the number of installations stared to grow rapidly. Radar had seven days of # 1 ranking in Navigation in Russia.
Also Radar was featured on the front page of the Windows Phone Store in Russia.
If you're interested in marketing your product in Russia, see the Windows Phone App Marketing in Russia page on our website, or contact us here.
Author: